Main content starts here, tab to start navigating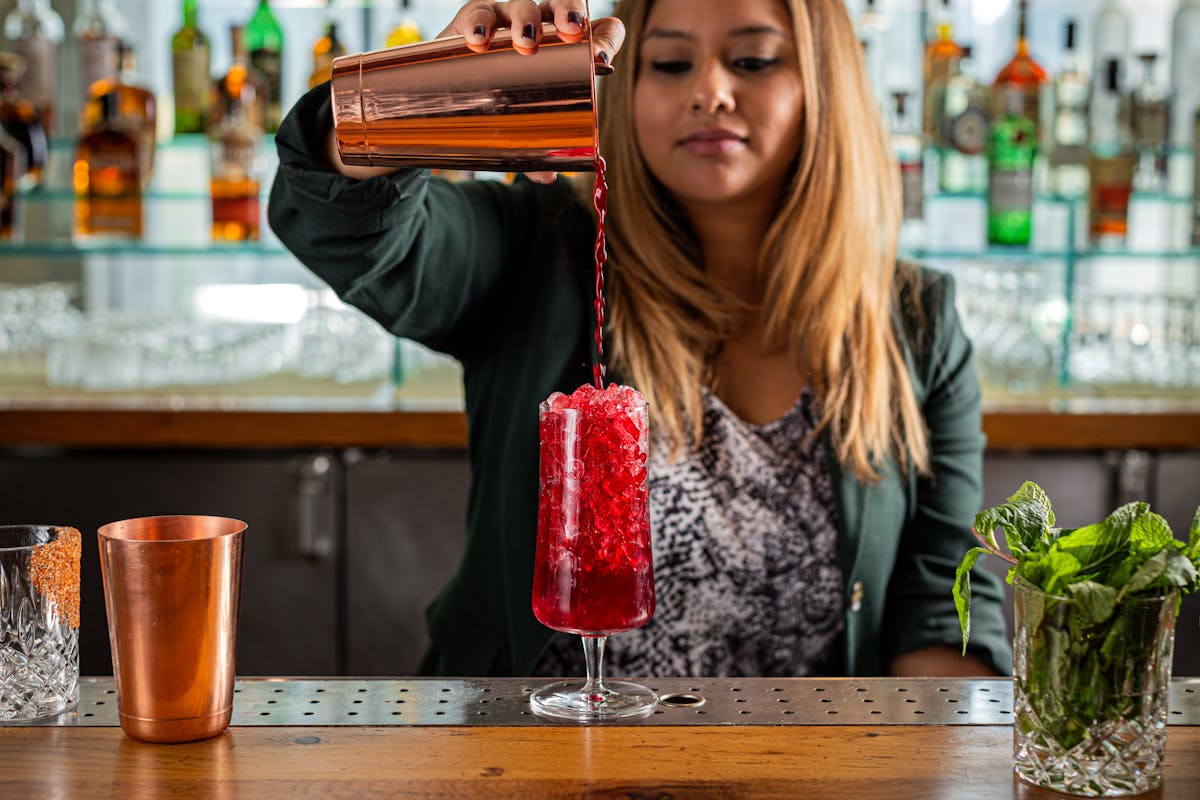 Carolina Gonzalez
Beverage Director / Mixologist
Beverage Director / Mixologist Carolina Gonzalez enjoys working with chefs who bring creativity to the table—providing her inspiration to design whimsical, well-rounded drinks for the bar. The beverage program she manages at WoodWind includes cocktails inspired by the classics and combined with a flare that utilizes seasonal ingredients.
The cocktail menu, designed to cater to different palates, compliments the restaurant's contemporary American shared plates while enhancing flavor and taste profiles. "I believe we're here to connect with people through service as artists who create and showcase to guests," Gonzalez explains. "The hospitality industry allows us to engage with a wide range of individuals through our artistic expression."
Having grown up in Chicago with many family members in the restaurant industry, Gonzalez had Midwestern hospitality instilled in her at a young age. Her relatives' dedication and hard work inspired her to enter the food and beverage industry at the age of 15—first as a hostess, and then she went on to explore other positions such as a barista, cashier, kiosk cook, wine coordinator, and more over the years that followed.
As an ambitious 21-year-old looking for new and exciting things to do, she took on her first bar gig while attending a bartending course during her spare time to flesh out her skills. One day, when a bartender did not show up to work, she eagerly stepped behind the bar to support her manager. Over the next few years, she crafted both classic and one-of-a-kind cocktails for the restaurants' menu and brand sales representatives. Because of her continuous assistance and enthusiasm for the overall success of the restaurant, she earned herself a manager position. As time passed, however, Gonzalez realized she missed engaging with guests. "I wanted to get back to creating cocktails that spiked interest and curiosity," she says.
Gonzalez's ambition led her to compete at an Espolòn Cocktail Fight where she placed second—fueling her desire to integrate both roles of professional management and mixology. In 2017, she served as a bartender for the opening team at Barrio—a creative, modern Mexican restaurant helmed by "Top Chef" alum Chef Katsuji Tanabe. Before joining the opening team for WoodWind in September 2019, she worked as a bartender and manager for restaurants throughout Chicago, most recently at Barra Ñ, an Argentinean lounge known for its South American cocktail favorites.
Outside of work, the Albany Park resident decompresses with dancing—she's a former dance instructor—or by going to the park with her two pit bulls, Romeo and Sweeney.