Main content starts here, tab to start navigating
Menus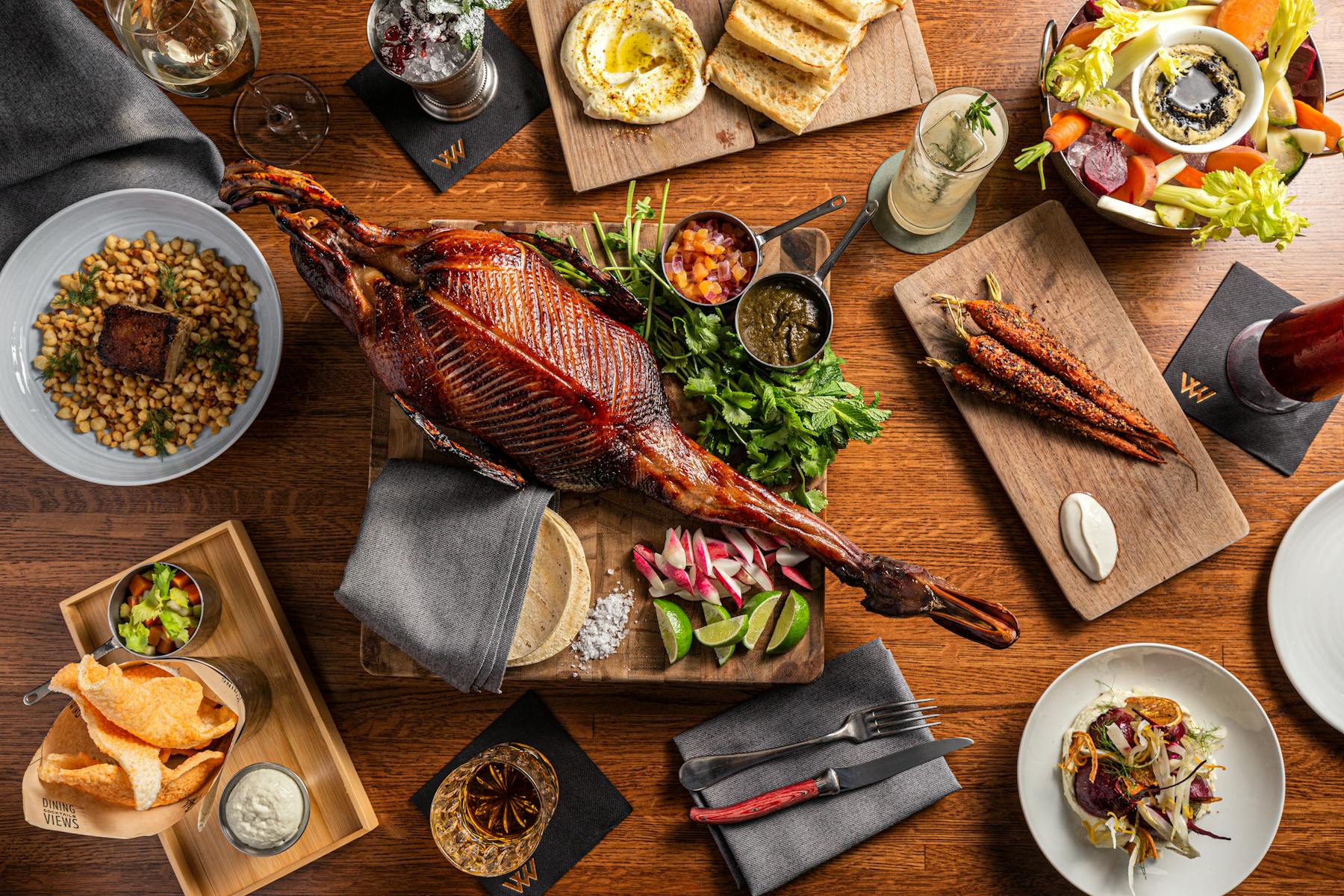 $15.95 PER PERSON
Available for take-out or dine-in from 12pm - 8pm on Thursday, Nov 26th 2020
Download PDF
HAPPY THANKSGIVING
OVEN-ROASTED TURKEY

herb butter, spiced cranberry sauce

WOODWIND STUFFING

andouille sausage, peppers, onions, herbs

GLAZED CARROTS

honey, mishmish

SLICE OF APPLE PIE

house-made crème fraîche
Available Mon-Fri from 12pm-9pm & Sat from 5pm-9pm
Download PDF
SNACKS
to share (or not)
HOUSE RICOTTA — 10

honey, mishmish, toast

FERMENTED HUMMUS — 12

naan, all the veggies, ash

CHICKEN CHICHARRÓN — 9

flavors of buffalo wings, ranch foam

BLOOMIN' MAITAKE — 14

burnt sesame caramel, bonito
MOSTLY VEGETABLES
PUMPKIN & WINTER SQUASH SOUP — 9

spiced crème fraîche, candied pepitas, crispy sage

ROASTED BRUSSELS SPROUTS — 9

crispy shallot, pine nuts, sumac yogurt

ACORN SQUASH — 10

pumpkin seeds, ricotta, pickled fresno

BEET THREE WAYS — 11

caramelized honey almonds, lula yogurt, calamansi gastrique

KALE SALAD — 12

maytag blue, pear, puffed grains, cranberry vinaigrette

add duck leg $12

add 4oz. tenderloin $20
OUR COMMITMENT TO YOUR HEALTH & SAFETY
We are committed to operating with the highest safety standards to ensure the health & well-being of our guests and team members. In accordance with the latest Illinois mandates, we do ask that you wear a mask whenever a member of the staff is present at your table. Thank you kindly for your patronage and for supporting our team during this time. We couldn't do this without you and look forward to seeing you again soon!
FROM THE SEA
HOUSEMADE CAPELLINI — 22

manila clam "chowder," guanciale, hot sauce panko

SEARED SCALLOPS — 24

charred cipollini, parsnip purée, pomegranate, crispy lemon

PAN-SEARED BRANZINO — 36

apple slaw, romanesco, romesco
FIELDS & RANCHES
WOODWIND BURGER* — 19

hooks cheddar, b&b pickles, fancy sauce - choice of fries or side salad

CHICKEN N' WAFFLES — 18

celeriac slaw, pickles, sourdough waffle

DUCK TINGA TACOS* — 21

confit duck leg, roasted corn salsa, cotija, herbs

GRILLED SHORT RIB — 32

lemongrass, carrot purée, pickled slaw, scallion pancakes

BEEF TENDERLOIN* — 42

green garlic chimichurri, yucca tots
SWEETS
PECAN GELATO TURTLE — 10

chocolate & caramel sauce duo, candied pecans

SMOKED CHOCOLATE POT DE CRÈME — 10

salted caramel, whipped cream

CARAMEL APPLE POT PIE — 10

Nichols' Farm apples, peanut crusted puff, golden raisins - For every Apple Pie sold, we will donate 10% to Chicago's Toys for Tots. Join us in celebration of the holiday spirit.
Cocktails
CRANBERRY BOULEVARDIER — 14

George Dickel rye, cranberry-infused Campari, sweet vermouth — smooth, tart & slightly sweet - perfect to sip on in front of a fireplace while enjoying the aromatics of rosemary

BANANE DU BRESIL OLD FASHIONED — 16

George Dickel whisky banana fat wash, Giffard banane du bresil, angostura cocoa bitters, black walnut mist — silky, buttery & spirit-forward with hints of brazilian bananas - keep warm with this cozy concoction

COSMOTIQUE — 13

butterfly pea tea-infused Ketel One, elderflower liqueur, lime, dessert rose — sweetness complimented by a crisp of citrus, with hints of elderflower and dried rose petals

BEEHIVE — 15

Sombra mezcal, coconut water, lemon, honey — an herbacious smokey body with notes of silky fresh coconut, finished with a delicate dusting of saffron, bee pollen & crystallized honey
BEERS
GOOSE ISLAND 312 — 7

urban wheat ale, Chicago

REVOLUTION FREEDOM OF PRESS — 7

fruited session sour, Chicago

BLUE MOON — 7

wheat ale, Colorado

CASA HUMILDE NOPALLI — 12

prickly pear farmhouse ale, Chicago

DELIRIUM TREMENS — 15

Belgium strong blond, Belgium

STELLA ARTOIS — 7

pilsner, Missouri

ESTRELLA DAMM DAURA — 7

gluten-free, Spain

BECKS — 5

non-alcoholic, Germany

LAGUNITAS — 7

ipa, California

LEFT HAND MILK STOUT NITRO — 9

stout, Colorado

GUINNESS — 7

stout, Ireland
Wines by the Glass
sparkling

PROSECCO — 10

Adami "Garbèl" Treviso, Italy NV

BRUT ROSÉ — 10

Francois Montand, Methode Traditionnelle, France NV

ROSÉ

GRENACHE BLEND — 13

Commanderie de Peyrassol, Côtes de Provence, France 2016

WHITES

SAUVIGNON BLANC — 11

Kenwood, Sonoma County, CA 2018

CHARDONNAY — 16

Domaine Savary, Chablis, France 2016

PINOT BLANC — 15

Domaine Ostertag "Les Jardins" Alsace, France 2017

GARNACHA BLANCA BLEND — 13

Muga "Blanco" Rioja, Spain 2016

ROUSSANNE — 14

Truchard, Los Carneros, CA 2018

CHARDONNAY — 15

PlumpJack Reserve, Napa Valley, CA 2017

RIESLING — 12

Seehof "Feinherb" Rheinhessen, Germany 2018

REDS

SANGIOVESE BLEND — 15

Vignaioli del Morellino di Scansano, Italy 2018

PINOT NOIR — 12

Stringtown, Willamette Valley, CA 2018

SYRAH — 14

Yves Cuilleron "Les Vignes d'à Côté" Rhône Valley, France 2018

CABERNET SAUVIGNON — 10

Hook or Crook, Lodi, CA 2017

MALBEC — 13

Eral Bravo "Urano" Mendoza, Argentina 2015

GRENACHE BLEND — 13

Famille Perrin "Les Cornuds" Vinsobres, France 2016

GRENACHE BLEND — 15

Château de St. Cosme "Les Deux Albion" Côtes du Rhône 2017

GAMAY — 11

Noir "Cru" Division, Methven Family Vineyards, Eola-Amity Hills, Oregon 2015
To view our full wine list, please click on the pdf menu below.
Download PDF
To view our full spirits list, please click on the pdf menu below.
Download PDF